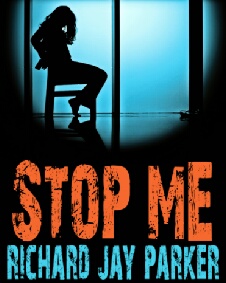 Forward this email to ten friends
Each of those friends must forward it to ten friends
Maybe one of those friends of friends will be one of my friends
if this email ends up in my inbox within a week i won't
SLIT THE BITCH'S THROAT
Can you afford not to send this on to ten friends?
STOP ME is the fiendishly dark debut novel of Richard Parker and is a uniquely addictive thriller that examines the torment of Leo Sharpe, a Londoner whose wife, Laura, inexplicably vanishes from a bar, and a frantic search that begins in the UK and extends to the tenebrous backdrop of post Mardis Gras New Orleans.
John R Bookwalter is a man who claims to be the Vacation Killer but has been dismissed by police as a crank because he's never left the state of Louisiana. How can he exert such control via his website and why would Leo entertain his claims that he has Laura captive?
STOP ME leads the reader to the darkest recesses of its backdrop and its character's psyche as well as examines the phenomena of Internet celebrity, e-relationships and online obsession.
'Tightly written, fast paced, keeps you turning the pages.'
Simon Kernick - author of Relentless, Siege and Good Cop Bad Cop
Shortlisted for the John Creasey New Blood Dagger Award 2010